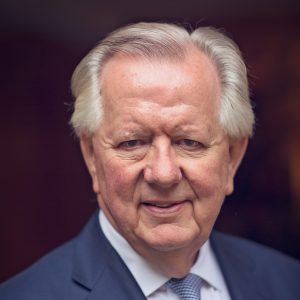 Steve Norris was a Member of Parliament from 1983 to 1997 and from 1992-1996 was Minister of Transport. He led the Jubilee Line Extension project and took the first Crossrail Bill through Parliament. He authored the first National Cycling Strategy and is also credited with being the first to take transport technology seriously which he has continued to do ever since leaving Parliament in 1997.
He has been associated with ITS UK since its inception and has been actively involved in three ITS initiatives, AIM listed ITIS Holdings plc subsequently sold to Inrix, Speed Check Services sold to Lloyds Development Capital and now Jenoptic and NYSE listed Cubic Corporation, authors of the London Oyster card transit payments system of which he was a main board director for 8 years prior to its sale in 2021.
He currently advises the UK Cubic Transportation business and remains active in transport technology as a Commissioner of the Independent Transport Commission, Chair of the Council of the National Infrastructure Planning Association and a Fellow of the Institution of Civil Engineers.
He has been President of ITS-UK for many years and in 2020 received the Rees Hills Lifetime Achievement Award.