Coronation footfall down 42% compared to Queen's Platinum Jubilee 
Pedestrian footfall was up 77% compared to the average Saturday, but the King's Coronation witnessed 42% lower footfall than the Queen's Platinum Jubilee last year, according to data from VivaCity
London, UK; 10th May 2023: With new YouGov research highlighting that only 32% of 18-24 year olds are in favour of the monarchy, data on pedestrian activity from the King's Coronation demonstrated that interest in the Royal Family could be on the decline.
The data, which was gathered anonymously by VivaCity's AI-powered sensors, highlighted traffic and pedestrian counts across key central London hotspots: Westminster and Constitution Hill. The sensors recorded that pedestrian footfall peaked during the procession to the palace from Westminster Abbey.
Compared to an average Saturday, the Coronation witnessed greater footfall, with more distinct peaks throughout the day. Data shows a spike in pedestrian traffic between 6-8am coinciding with the opening of viewing areas, as many arrived early to secure a great viewing spot. Much less movement was recorded during the crowning, with spectators likely waiting in place to view the procession later on, despite rainfall on the day. Movement picked up again to its highest level at 2pm when crowds made their way to Buckingham Palace to catch a glimpse of the Royals on the balcony and the flypast.

VivaCity data also revealed that footfall in areas surrounding Buckingham Palace was twice as high when the Royal Family appeared on the balcony during Queen Elizabeth's Platinum Jubilee event, compared to the King's Coronation ceremony on Saturday. Overall footfall was 42% lower during the Coronation than at the Jubilee. Compared to average data from January to May this year, the Coronation saw car usage down by 85% compared to typical use on a Saturday, with a 77% increase in pedestrian activity near the possession route recorded.
Mark Nicholson, CEO at VivaCity commented: "VivaCity's sensors anonymously gather and analyse footfall, cyclist and traffic data, helping authorities run events smoothly. Working with a range of councils across the globe, our technology is going a long way in promoting active travel, making our towns and cities more sustainable."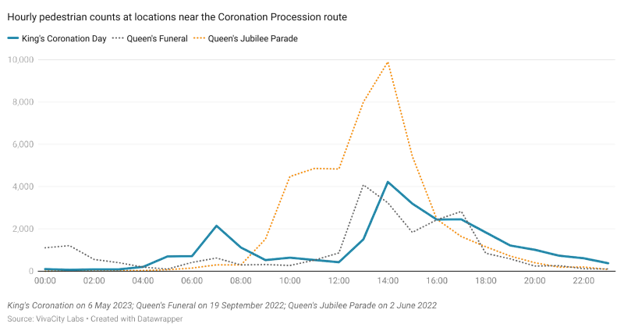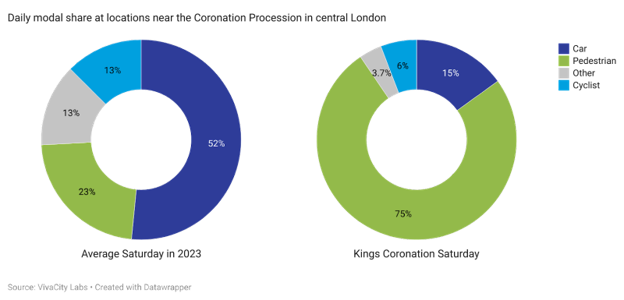 About VivaCity
VivaCity makes cities smarter, safer and more sustainable by supporting and empowering authorities with the right transport data at the right time.
The company's Artificial Intelligence sensors gather accurate, detailed and anonymous data 24/7 on transport modes, traffic flow and travel patterns, supporting strategic decisions to help optimise the transport network and improve urban infrastructure.
Cities need to harness technology that provides comprehensive, high-quality insights, especially when it comes to roads and public spaces. When investing in projects to support sustainable travel, road safety and liveable neighbourhoods, this data is invaluable, enabling more efficient planning, impact monitoring and assessment of a scheme's success.
VivaCity was awarded the Queen's Enterprise Award for Innovation in 2021, and their sensors have been deployed in over 90 towns and cities across the UK – with international growth well underway.
VivaCity takes the protection of data seriously. Their sensors have been developed using privacy-by-design principles to ensure that personal data is never compromised.
To find out more about VivaCity, visit the website here.
Contact information
Leah Jones, ljones@thecommsco.com, +44 7876 117760