ITS UK launches Exports Study
ITS UK has launched a new study into the export opportunities for the intelligent transport sector, revealing an industry optimistic about future growth.
The ITS Exports Study, developed by ITS UK with support from the Transport Technology Forum, gathered views from over 100 ITS businesses in the UK. The findings reveal that:
Businesses are optimistic about future growth overseas, with 69% giving a rating of three or higher (with five being the most optimistic) for their future exporting prospects. 60% of respondents gave a rating of three or higher when asked about the industry's international growth prospects.
The top five markets the UK exports most to are (in order) the US, Australia, Ireland, Canada and New Zealand. And the top priority markets for the sector, where organisations would like to do more business, are the US, Australia, Germany, France and the Netherlands.
A majority – 55% – said they were looking to export more. When asked if government and industry are providing the right level of support for the UK ITS market in exporting overseas, 57% said they could be doing more, with the priority on delivering "greater promotion of UK industry to overseas partners", "simpler trade rules" and "reduced tariffs".
The Launch
The Study was launched in Westminster by Department for Business and Trade Minister The Earl of Minto on Thursday 9 November, as part of International Trade Week, the Government's annual celebration of UK exports.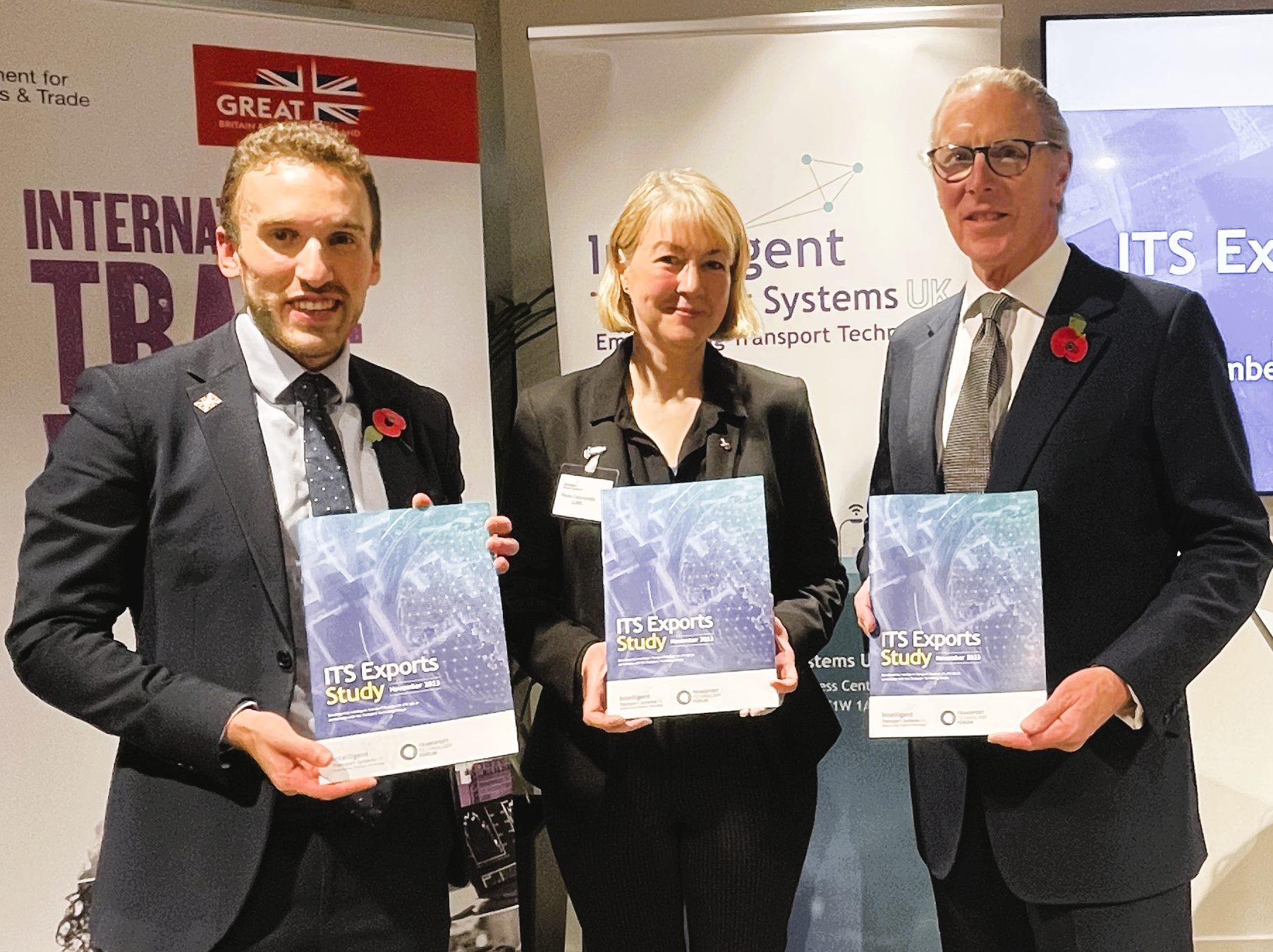 The Launch also saw representatives from business and industry bodies give their view on exporting in a panel discussion with Alison Young, Head of Global Investment, Connected Places Catapult; Neil Walker, Exports Director, Railway Industry Association; Nora Ali, International Channel Manager, Clearview Intelligence and Stewart McGuire, Sales Manager at Neology UK.
Attendees also heard from Stefano Mainero on the opportunities from the UK's reconfirmed association with Horizon Europe.
Reaction
"The ITS Exports Study presents a UK transport technology industry that already has a significant global reach and is ready to do even more business abroad" said Max Sugarman, ITS UK Chief Executive of Intelligent Transport Systems UK (ITS UK), launching the report.
"The UK is widely regarded across the world for its expertise in this sector, and with the global intelligent transport industry expected to grow rapidly over the coming years, there are many opportunities for businesses of all sizes and disciplines.
"This Study, developed with the support of the Transport Technology Forum, sets out a clear direction for how both Government and industry bodies like ITS UK can support the sector, providing us with a list of priority markets businesses want further engagement with, and the key challenges they're facing in expanding their businesses internationally. We look forward to working with Government to support the sector over the coming years to grow and flourish on the global stage."
Steve Gooding, RAC Foundation Director and Chair of the Transport Technology Forum, added: "The UK intelligent transport industry has a key role to play in supporting safe, green and efficient travel at home, but it also has the potential to help achieve the UK Government's vision of a 'Global Britain' through export success.
"This study shows how the sector can achieve more and realise its huge export potential through Government and industry working together and focusing that joint effort to best effect."
Next Steps
The Study will be used to inform ITS UK's Export Support Programme over 2024, with further opportunities for members to input into the direction of this activity. If ITS UK members are interested in getting involved, email contact@its-uk.org.