Re-flow Field Management Review by Lagan Airport Maintenance
Lagan Airport Maintenance is a part of the Lagan Specialist Contracting Group, providing specialist airport maintenance both in-house and direct to clients.
Headquartered in Woolston, the company began operating in 2019, and have experienced rapid year on year growth since.
The team's projects range from small concrete repair jobs to long-term works at major airports, spanning 5 or 6 months at a time.
Challenge
Lagan Airport Maintenance (LAML) was rapidly expanding, beginning to quickly outgrow their manual way of work. One of the business's key challenges was the quality and timeliness of information returning from remote sites. When documents returned from sites, they were left in piles, with files often going missing. This created additional work for office administrators and logistics planners, who'd have to then spend time finding and retrieving information.
Scheduling was conducted using legacy spreadsheet software, then having to be communicated by unreliable and time-consuming means. On sites, sign off documentation was lacking, and internal and external audit trails were suffering as a result. With limited oversight and unreliable processes, LAML appointed a general manager to streamline and enhance their way of working.
LAML's parent company had already taken a foray into digital transformation, adopting a mobile-based solution that facilitated site communication, toolbox talks and more. This solution, however, was not the right fit for the projects LAML was undertaking, and it could not be adjusted to fit their unique needs. Having experienced Re-flow's benefits at her previous company, general manager, Tricia Green, pitched the solution as an alternative to LAML's director and HSE manager.
Solution
Re-flow is a scalable, end-to-end field management solution that facilitates all major operational processes. This includes detailed job creation and distribution, scheduling, team communication, form functionality and more.
Being a digital solution, Re-flow comes with the instant benefit of being completely paperless. This means that data from sites is returned instantly, accessible through the system's desktop dashboard. Office administrators and logistics planners no longer need to spend time retrieving misplaced documents, with everything accessible through Re-flow at the touch of a finger.
Scheduling is also fully integrated into the system, eliminating the need for spreadsheet-based project planning. Events and tasks can easily be scheduled against created jobs, with the newly implemented drag-and-drop features making assigning vehicles, operatives and equipment more intuitive than ever. Common jobs can even be scheduled to recur on a regular basis, enabling effortless creation of MOTs, maintenance and repeating site visits.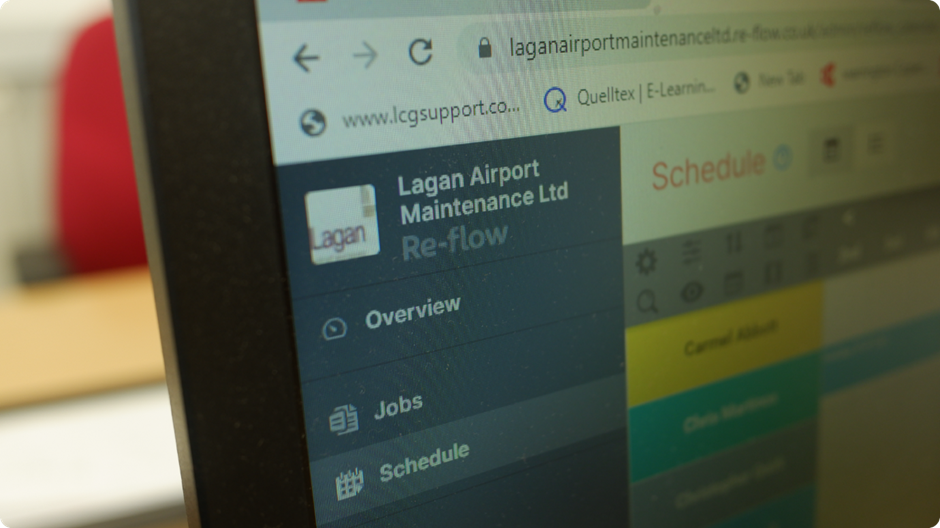 For harvesting data on-site, Re-flow's form functionality provides the tools to effortlessly enforce compliance and ensure high-quality, instant information. Harvested through digital forms, users can pick from a catalogue of over 40 pre-built forms or build their own to regulatory standards. This keeps the system flexible, enabling forms to follow unique process and track any KPIs necessary.
Ensuring airtight compliance and auditability, all forms are tagged with a unique digital signature, time, date and location, with additional support for geofencing. With all data automatically stored in Re-flow and tagged with relevant information, building robust audit trails and reports becomes a breeze.
Outcome
Having fully adopted Re-flow, LAML were able to eliminate their manual, paper processes and begin benefiting from accurate, real-time data exchange. Near misses and safety observations could now be recorded in real time. Copies of signed site paperwork such as RAMS, start of shift briefings and point of work risk assessments are completed daily and easily visible through the dashboard, automatically alerting of any on-site concerns in real-time.
Vehicle and plant pre-use safety checks and defect sheets arrive back instantly with attached photographs, enabling the team to easily isolate defect plant or equipment, and immediately act on scheduling repairs and ordering replacement parts.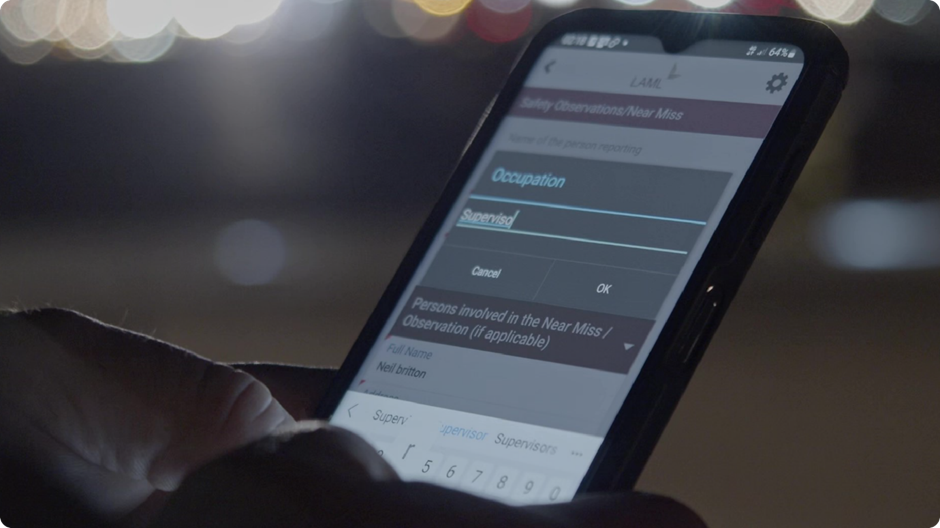 In-app tasks are now a part of operative's day-to-day, enabling the team to put greater focus on H&S management. Through use of the knowledge base, teams on-site have access to all of the company's latest policies, information and copies of all internal technical training. This includes COSHH assessments, toolbox talks and safety alerts.
Should any information be updated, office teams can communicate this in real-time, providing operatives access to the latest information. When audit trails need to be compiled, all communication between site and office is easily trackable, without the need for paperwork clutter, scanning or stage. Thanks to these changes, operatives have been able to save 15 minutes a day, while admin teams save an average of 40.

LAML now joins a community of hundreds of businesses nationwide that have embraced digital transformation and ensured sustainable growth for years to come. All of this, and more, can be achieved with Re-flow's award-winning field management software for civil engineering.
To learn more about Re-flow's award-winning field management software, visit www.re-flow.co.uk or call 01392 574002