TfL publishes new data on London's e-scooter rental trial as it celebrates its second anniversary
Transport for London (TfL), London Councils and e-scooter operators Dott, Lime and TIER have released new data, covering June 2021 to Nov 2022, that shows the progress made during the first phase of the London rental e-scooter trial. The main objective of the trial is to gather data on this new vehicle type to help inform future legislation and regulations.
London's trial is one of the largest trials running nationally, with a network of more than 600 parking bays and a fleet of more than 5,000 vehicles
Since launching more than two and a half million trips had been taken totalling nearly six and a half million km – enough to travel around the world 161 times
Rental e-scooters are the only way to legally ride an e-scooter on public roads or in other public places
TfL has been working in partnership with London Councils, participating boroughs and the three e-scooter operators to deliver the new 24/7 transport service across London. The trial launched in June 2021 and has expanded significantly since then, with ten participating boroughs, more than 600 designated parking locations, of which in excess of 50 per cent are in the carriageway, and more than 5,000 e-scooter vehicles now available for hire. Since launching, more than 2.5 million journeys have been made, covering more than 6.46 million kilometres – the equivalent of travelling 161 times around the world. The average e-scooter trip duration was 17 minutes and the average distance travelled was 2.5km.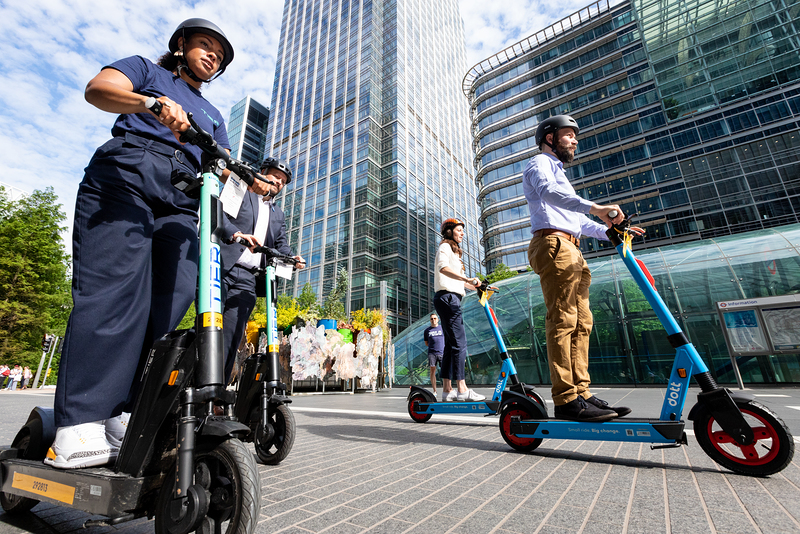 The trial has focussed on safety throughout, supporting the Mayor's Vision Zero target to eliminate all deaths and serious injuries on London's roads, and operators are selected based on their ability to meet strict safety requirements and high operating standards. TfL has taken steps to ensure the safety of anyone riding rental e-scooters and other members of the public, with the rental vehicles in London having high safety standards which go beyond the national standards, including a speed limit of 12.5mph, larger wheels and lights that are always on throughout any rental. Private e-scooters remain illegal for use on roads and cycle lanes.
TfL has published a factsheet which gathered data from the first 18 months of the trial. This shows that fewer than 0.01 per cent of trips resulted in serious injury. There have been no fatalities and 22 serious injuries reported by operators. Operators reported that during the first phase of the trial, more than 95 per cent of trips complied with rules around parking.
Rental e-scooters are zero emission at tailpipe and therefore considered a green and sustainable form of transport that could help reduce congestion and improve air quality in London. Data from the first 18 months of the trial shows that more than the equivalent of 249 tonnes of CO2 emissions have been saved by the e-scooter trips, with 32 per cent of users combining their journey with a mode of public transport.
TfL is working to finalise contracts for the next phase of the trial, following an open procurement process.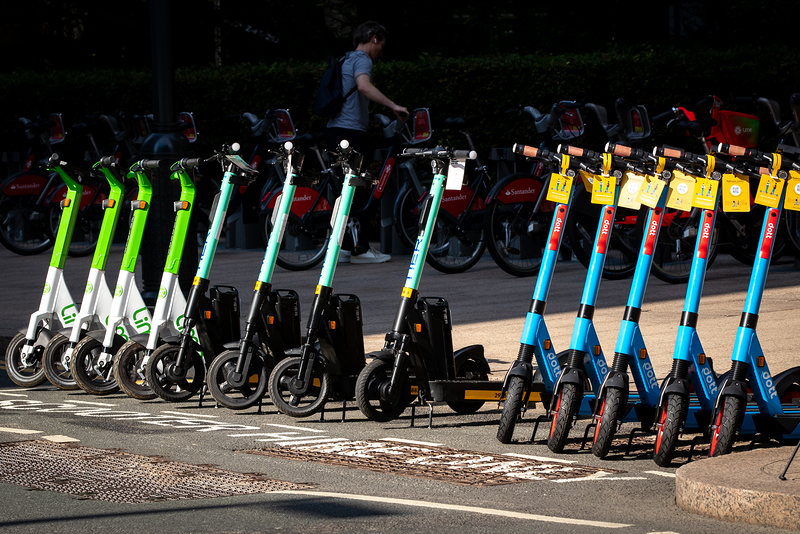 Seb Dance, Deputy Mayor for Transport, said: "I'm pleased to mark the second anniversary of London's hugely popular e-scooter rental trial.  
"We've been clear that the trial must be focussed on safety and support the Mayor's Vision Zero target to eliminate all deaths and serious injuries on London's roads. The rental vehicles in London have high safety standards which go beyond the national standards, including speed limits and parking limited to clearly marked bays, to ensure the safety of anyone riding rental e-scooters and other members of the public.
The Mayor and I are determined to continue building a cleaner, greener and more prosperous London for everyone, and these rental e-scooters provide Londoners and visitors alike with a safe and sustainable travel option."
Helen Sharp, TfL's e-scooter trial lead, said: "E-scooters could play an important role in ensuring a green and sustainable future for London and we delighted to be celebrating the two-year anniversary of the London rental trial. We're working closely with operators, councils and people across London to build on our plans for the next phase of the trial, which will help us build on its successes so far. We hope Londoners and visitors can continue to benefit from the trial and we will continue to use its data to learn more about the role e-scooters could play in helping people move around London sustainably."
Thousands of users have also benefitted from the operators' discount schemes, that make the rental vehicles more affordable for people on low incomes. London rental e-scooter operators are working with UCL's world-leading research facility PEARL to research and develop a 'universal sound' for rental e-scooters. Building on work already undertaken by all three operators, the approach is supported by TfL and could improve safety across the entire e-scooter industry by helping people, in particular those with visual impairments, identify rental e-scooters.
Mayor Philip Glanville, London Councils Executive Lead for Climate Change, Transport and Environment, said: "Over the past two years, we have seen the growing popularity of rental e-scooters across London. It is particularly great to see that many Londoners are combining e-scooter trips with public transport, easily joining up their journeys while travelling sustainably.
"The rental e-scooter trial has been shaped by boroughs and aims to be inclusive of London's diverse local communities, so it is encouraging to see that thousands of people have used the operator discount schemes targeted at those on low incomes. The rental e-scooter trial is the only legal way to use e-scooters in the capital, and boroughs are committed to making journeys easier for users, having made over 500 parking bays available.
"Safety has been at the forefront of the trial, with a positive track record. We will continue to prioritise safety to ensure all our residents can be confident in using the scheme, helping to eliminate non-essential car journeys, making our city greener, cleaner and healthier."
Contact Information
TfL Press Office
Transport for London
0343 222 4141
pressoffice@tfl.gov.uk
Notes to editors
The London e-scooter rental trial interim factsheet can be found here: https://tfl.gov.uk/corporate/publications-and-reports/electric-scooter-rental-trial
London's is the largest trial running in the UK and full details of other trials are available on the DfT website here: www.gov.uk/guidance/e-scooter-trials-guidance-for-users#trial-areas
Nation-wide e-scooter trials are approved by the DfT. The DfT is in charge of the legislation for e-scooter use
Downloads