ITS UK publishes 2023 Annual Review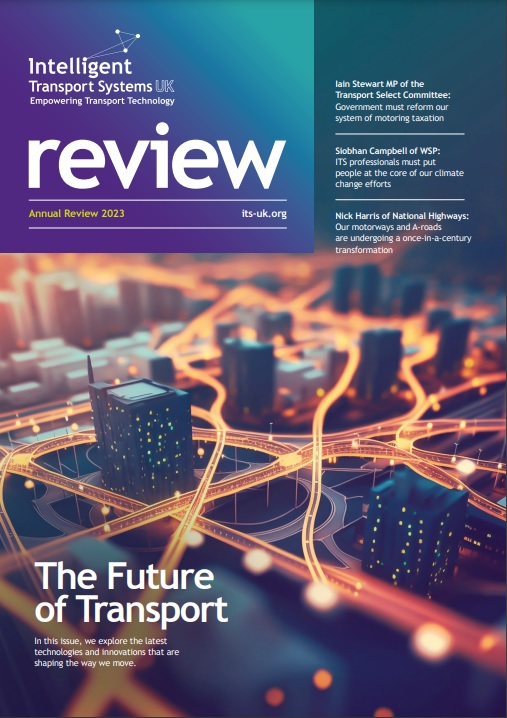 ITS UK has published its Annual Review, the leading publication, magazine and directory covering topics across the intelligent transport sector.

The 2023 edition explores 'the future of transport', with articles looking at how we need to consider human factors in decarbonising the transport network, the use of traffic management to ensure the efficiency of bus routes and using untapped data to make traffic flow more effectively.
The Review also contains all you need to know about ITS UK membership, covering how to make the most of being a member, a description of our 15+ Forums, our members directory and annual calendar.
And this year we have contributions from across the sector, including from key clients, policy makers and politicians. In the 2023 Annual Review, you'll get the latest insights from:
Nick Harris, Chief Executive, National Highways
Iain Stewart MP, Chair, Transport Select Committee
The Women in ITS Leadership Team
Anit Chandarana, Lead Director, Great British Railways
Steve Norris, ITS UK President and former Transport Minister
Ian Hind, Commercial Director, AGD Systems
Neil Herron, CEO and Founder, Grid Smarter Cities
Siobhan Campbell, Technical Director, WSP
James Hornsby, Early Careers Director, ITS UK
Sharon Kindleysides, Chief Executive, CILT (UK)
Ryan Hood, Chair, ITS UK
John Ball, Senior Product Manager, SWARCO
Geoff Collins, General Manager UK at Acusensus
Arup's Intelligent Mobility Team
Max Sugarman, Chief Executive, ITS UK
Michael Solomon Williams, Campaigns Manager, Campaign for Better Transport
Wen Atkinson, Associate Director, Arcadis IBI Group
Joost Vantomme, Chief Executive, ERTICO
Jason Loader, Future Mobility Discipline Lead, 4Way Consulting
Steve Parsons, Sales Director UK & Ireland, Kapsch Traffic-Com